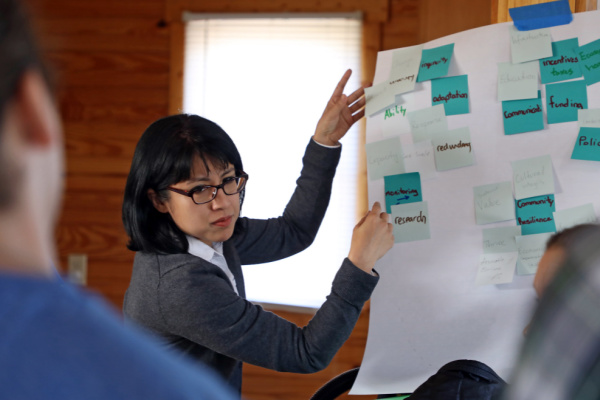 Environmental Science for Society: Communication Strategies For Collaborative Research
Transdisciplinary Environmental Science for Society (TESS) is a noncredit professional development program designed by University of Arizona faculty to help close the gap between scientific research and the needs of society to address increasingly complex environmental problems.
What You Will Learn
Communication Strategies for Collaborative Research provides participants with the context, information, and tools for communicating effectively in a collaborative research setting. This course is different from a science communication course in that it focuses on elements and practices of communication that foster successful collaborative research. Topics include:
recognizing the importance of dialog and active listening
building a communication toolkit that recognizes and values multiple perspective
learning effective approaches and strategies for collaborative research
producing and sharing the results of your collaboration with a broader audience through a range of tools and practices.
Instructors: University of Arizona faculty members, Dr. Daniel Ferguson, Dr. Gregg Garfin, Dr. Gigi Owen, Dr. Monica Ramirez-Andreotta, and Dr. Connie Woodhouse
View additional course information.
Who Should Take This Course?
If you are a researcher, practitioner, leader, or educator interested in the intersection between science and environmental decision-making, TESS will equip you to actively address the world's most complex environmental challenges.
Class Schedule and Format
Class Dates: October 11-November 7, 2021
The course includes weekly learning activities (such as videos, readings, online discussions, and assignments). As long as you complete your work by the assigned deadline, you can work at your own pace, and you don't need to be online at a particular time.
What is Included
Approximately 20 hours of online learning
Participants who successfully complete the course will receive a digital badge
Participants who successfully complete the course will be eligible to receive 2 continuing education units (CEUs) - CEUs are available for an additional fee
Paying for Your Course
A 10% discount is available for military-connected learners and for University of Arizona faculty, staff and students. For inquiries about other discounts or scholarships, contact Connie Woodhouse, conniew1@arizona.edu.
Image: Virginia Sea Grant / Creative Commons