Manager and Supervisor Training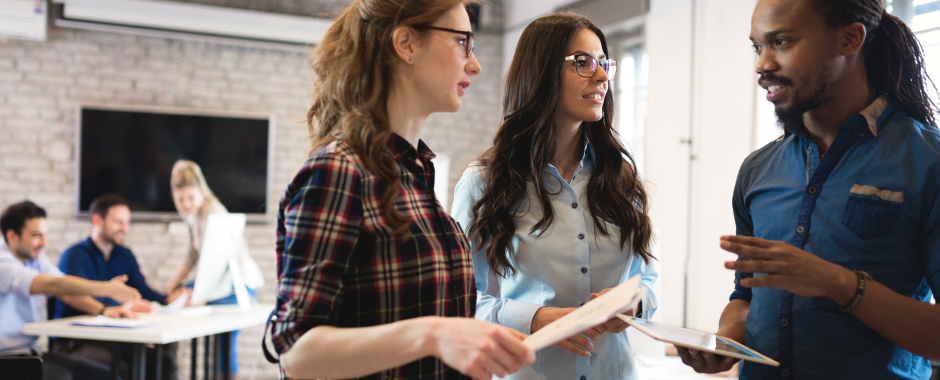 You were promoted because you were good at your old job. But leading others requires a whole new set of skills.
If you're feeling a little overwhelmed, you're not alone! Half of new managers say they feel unprepared for their new roles. And 58% of experienced managers say they never received any management training.
That's why we developed the University of Arizona Manager & Supervisor Training Program. This online noncredit course is designed to equip both new and experienced managers and supervisors with the skills they need to succeed.
Maximize YOUR Management Potential 
Understanding your strengths – and how to use them – is the foundation for a successful management career.
In this course, maximizing your management potential starts with a CliftonStrengths Assessment. For decades, this in-depth assessment tool has helped people understand and develop their unique strengths in building relationships, thinking strategically, executing plans and influencing others.
Grounded in this knowledge of your individual strengths, you will learn and practice strategies for fostering teamwork, managing conflict, providing feedback and setting goals. You will also develop a professional development plan to continue your growth as a leader.
The course includes the CliftonStrengths Assessment, in-depth individual assessment results, six weeks of online training, and a one-hour individual strengths coaching session with the instructor, a Gallup-certified Strengths Coach.
Upon successful completion of the course, you will receive a digital certificate of completion from the University of Arizona office of Continuing & Professional Education.
Self-Paced Learning with Personalized Coaching
The six-week fully online course helps you develop your management skills through
An in-depth assessment of your strengths
Short engaging videos and curated readings
Online discussions with the instructor and other participants
Practical assignments and exercises
Instructor feedback
A one-hour 1:1 strengths coaching session
The convenient online format includes weekly assignments to keep you on track to achieve your professional development goals, but you don't need to be online at specific times to complete your work.
Who Should Take This Course
Newly promoted managers and supervisors who want to build a solid foundation that will help them be successful in their new roles
Experienced managers and supervisors who want to become more effective at leading their teams
Individual contributors who want to demonstrate that they have the skills to be promoted to a management role
Try Before You Buy
A seven-day free preview is available. The free preview includes select items from the course, so you can try it out and see if it is right for you.
---
Course Schedule and Registration
The course will be offered again in September, 2020. It is fully online, and you have 24/7 access to course materials.
Discounts are available for military and University of Arizona staff. Additional discounts are available for group registration. Contact us if you are interested.
A payment plan is available for this class.
Registration coming soon!
---
Instructor
Tom Murray is the Director for Professional Development in Student Success and Retention Innovation (SSRI) at the University of Arizona. Tom works across the units of SSRI to identify and execute professional development opportunities for University staff. He has a Bachelor's degree in mathematics from Loyola University Chicago, a Master's in counseling psychology from Northwestern University, and has completed additional graduate coursework in higher education here at the University of Arizona. He is also a Gallup-certified Strengths Coach.
He also has a number of years of experience working in retail and foodservice prior to working in higher education. He has managed well over 500 people - from part-time student workers to full-time professional staff members with advanced degrees. That experience taught him that successful management is not just about technical proficiency. It is about interpersonal skills. He loves teaching managers and supervisors to excel in their roles.