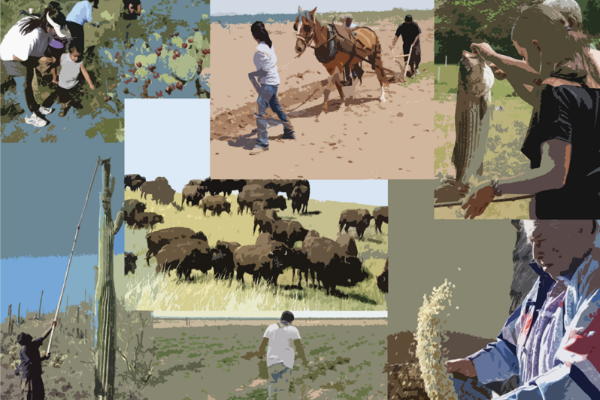 Indigenous Food Sovereignty: Principles & Practices
Registration is now closed.
For Indigenous communities, food is about culture, health and wellness, economics, natural resources, social relations, ways of knowing, and more.
This 8-week, fully-online non-credit class will explore both the principles behind Indigenous food sovereignty, and the strategies and practices that are helping Native peoples rebuild tribal food systems that contribute to sustainable, healthy, and culturally vital communities.
"Restoring Native food systems is an immediate and fundamental need for the continued survival, and physical and spiritual well being of Native peoples and our Mother Earth, now and into the future. The costs of doing nothing – and the potential benefits of action – are massive."  

– Native American Food Sovereignty Alliance
Students will learn about the principles and approaches that root Indigenous food sovereignty, explore real-life examples of how communities are rebuilding Native food systems today, and learn to apply practical strategies within communities.
Who Should Take This Course?
This course is equally intended for those seeking professional development and those seeking personal growth.
With its applied focus, this course is perfect for professionals working with tribal governments and programs, nonprofit organizations, Federal agencies, and elsewhere who wish to build their capacity, grow professionally, and develop new skills and knowledge. It is also ideal for those interested in seeing the world in new ways, exploring the importance of food in Native communities and beyond, learning how food can provide a lens for understanding culture, economics, wellness, ecology, and other pressing issues in today's world.
How It Works
This course will be an 8-week, fully-online course. All content will be available asynchronously, meaning that students can complete all work on their own schedule with no required meeting times. That said, there will also be many opportunities to interact with the instructor and other students. Students should expect to spend an average of 5 hours per week on the class. 
Upon successful completion of this program, participants will receive a Certificate of Completion from University of Arizona Continuing & Professional Education.
Discounts
A 10% discount is available for participants who are employed by a Native American tribal government or agency; employed or on the Board of a nonprofit organization serving Native American people; or any enrolled member of a Federally-recognized tribe.
About the Instructor
Dr. Tristan Reader is an Assistant Professor of Practice in the University of Arizona Department of American Indian Studies. He comes to the University of Arizona after a 20-year career as Co-Founder of Tohono O'odham Community Action (TOCA), a community-based organization dedicated to creating sustainability, wellness, and cultural vitality on the Tohono O'odham Nation. In his work with TOCA, Dr. Reader helped esablish farms to produce traditional crops, a beginning farmer training program for tribal members, school gardens, a traditional foods café, and many other projects aimed at supporting food sovereignty on the Tohono O'odham Nation. He serves as a member of the Leadership Council of the Native American Food Sovereignty Alliance (NAFSA). His PhD dissertation from Coventry University (UK) focused on Tohono O'odham Food Sovereignty and the Confluence of Quantum Leadership, Cultural Vitality, Public Health, and Economic Hybridity.