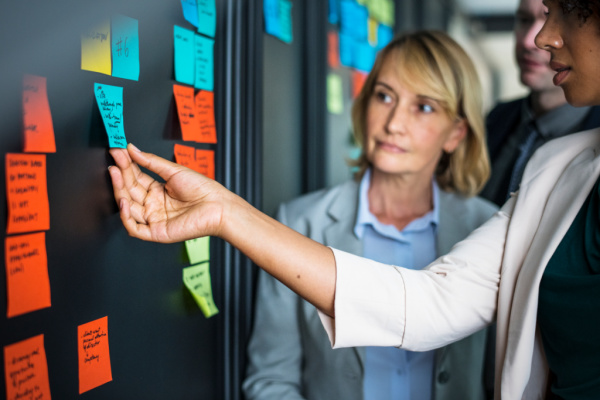 Advanced Project Management Concepts: Using Agile and Scrum
Industries around the world are facing increasing complexity when developing solutions to business problems. Agile frameworks and methodologies support ways of working that allow organizations to be more adaptive to emergent change.
Agile frameworks and methodologies have been widely adopted by teams and organizations looking to improve quality, increase flexibility, and utilize their resources more efficiently: 
"Agile ways of working can deliver benefits far beyond IT, the function where they originated: faster and more customer-centric decisions, happier customers, better use of talent, less wasted effort, and empowered and engaged employees." - McKinsey & Company, February 2021
Who Should Take Advanced Project Management Concepts?
While there are no prerequisites for this course, it is designed for experienced project managers. 
What You Will Learn
Agility is a fundamental change in how we work together. When we learn to "be agile", the "doing agile" part emerges naturally.
In this noncredit professional development course, you will learn to "be agile" by:
Discussing the elements of mindset that help to drive agile transformations.
Exploring Scrum, which is one of the most popular agile frameworks. Using the Scrum Guide, we will examine how to design workflows to be more adaptive to emergent change.
Practicing tools, techniques, and exercises that will help to illustrate the fundamental shifts that can help us to be more agile.
Class Schedule and Format
This is an intensive live course. The course is taught by an industry subject matter expert, either in person or live online, depending on the date.
Upcoming Classes
June 5-8, 2023, 8 :00 a.m.-4:00 p.m., in person in Sierra Vista or live online via Zoom (registration for this class is now closed)
Can be scheduled on demand for groups of six or more, in person (Tucson, Phoenix, Yuma or Sierra Vista area) or live online. Flexible scheduling and format options are available. Contact us to learn more.
In-Person Class Location
University of Arizona at Sierra Vista
Groth Hall, 1140 Colombo Ave.
Sierra Vista, AZ 85635
What Is Included in Your Advanced Project Management Class
32 contact hours of live instruction from an industry subject matter expert
Textbook and materials
A Certificate of Completion from University of Arizona Continuing & Professional Education upon successful completion of the course