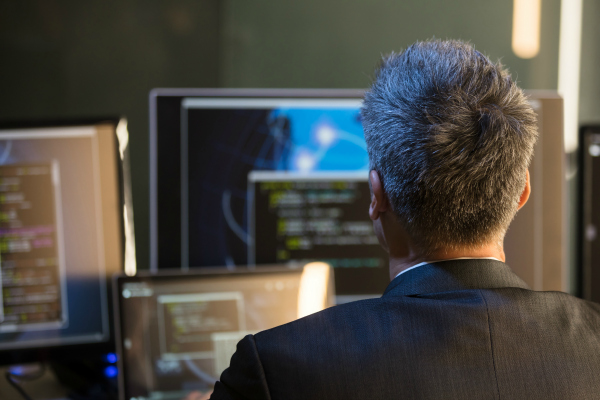 Certified Information Systems Security Professional (CISSP) Exam Prep
This intensive live instructor-led course provides fast and effective preparation for the challenging CISSP exam.
Why CISSP Certification?
Earning your (ISC)²® CISSP® certification is a major professional achievement that makes you stand out among your peers as a knowledgeable, skilled and experienced information security leader.
The certification demonstrates your information security expertise, and it is the top cybersecurity certification requested by employers in Arizona and nationwide. See our CISSP FAQs to learn more.
Why University of Arizona CISSP Exam Prep?
The intensive University of Arizona CISSP Exam Prep class is designed to prepare you for the CISSP exam, quickly and effectively.
Our industry subject matter expert instructors know what it takes to pass the CISSP exam and have a demonstrated track record of preparing participants to pass this difficult exam.
The CISSP exam tests your knowledge across eight security domains, from security and risk management to software development security. However, the real challenge is that the CISSP exam also tests your critical thinking, decision-making, and information security management abilities.
That's why University of Arizona CISSP Exam Prep teaches you not just the CISSP domains, but also how to think strategically like a CISSP.
Who Should Take CISSP Exam Prep?
CISSP is designed for experienced security practitioners. In addition to passing the CISSP exam, CISSP certification requires at least five years of paid work experience in two (or more) of the eight CISSP domains.
Upcoming CISSP Exam Prep Classes
September 18-22, 2023: registration for this class is now closed.
Need a different date? Let us know you are interested, and we will notify you when another class is scheduled.
Can also be scheduled on demand for groups of six or more, in person (Tucson, Phoenix, Yuma or Sierra Vista area) or live online
What is Included?
The live instructor-led class includes:
Coverage of the eight CISSP domains
Dynamic, engaging live instruction from an industry subject matter expert
Opportunities to ask questions and get the individual feedback you need to master the material
Practical test-taking tips and strategies to maximize your chances at passing the CISSP exam
All course materials, including a textbook and practice exam questions
Networking and collaboration with fellow information security professionals in a live classroom environment
Free self-paced online training and free registration for a follow-up class on the same topic (optional, provided by request)
A Certificate of Completion from University of Arizona Continuing & Professional Education, upon successful completion of the course
Note: CISSP exam cost is not included in course cost.
Paying for Your CISSP Class
Discounted pricing is available for military-connected learners, University of Arizona alumni and others.
Funding from Army CA, MyCAA or Air Force COOL may be available for eligible military-connected learners.
We can also work with your employer's tuition assistance, reimbursement or other education assistance program to fund your training.
(ISC)² and CISSP are registered certification marks of (ISC)², Inc.
Flexible Options (Self-Paced, Live Online, In-Person)
We offer flexible registration options for many of our popular instructor-led classes, including this class.
When you register for one of these "flex" classes, you get expert live instruction from an industry subject matter expert. Upon request, you also get access to free self-paced training, plus an optional free follow-up class on the same topic. Learn more about Flex Registration.