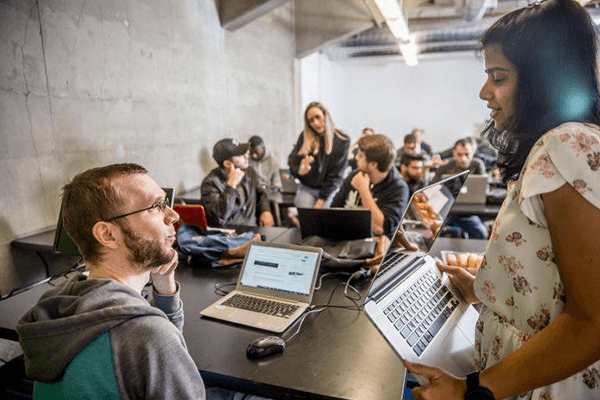 The University of Arizona Continuing & Professional Education Coding Boot Camp gives you the knowledge and skills to build dynamic end-to-end web applications and become a full stack web developer.
The curriculum covers the basics of coding, algorithms and data structure, all the way through intensive training in Javascript, Node.js, HTML, CSS, jQuery, Java, MongoDB, and more. In addition to classroom instruction, students will spend 20 hours a week on outside projects and experiential learning activities. These collaborative coding projects help students build a professional project portfolio to showcase their abilities and hone their competitive edge in the employment market.
By the time you graduate, you should be able to:
Understand the process of serving a web page and how the browser renders code
Build front-end websites from scratch, as well as with ready-made frameworks
Create full-stack, single-page web applications with RESTful routes and AJAX methods
Generate dynamic content and implement user authentication schemes by incorporating different types of databases—MySQL, MongoDB and Firebase
Develop apps while applying the accepted and standard basics of social coding—source control, issue tracking, functional feedback, etc.
Run through the entire development cycle of complex projects in both independent and collaborative settings
Part-time and full-time options are available.
Please visit the University of Arizona Coding Boot Camp site or call (520) 917-1930 for more information.
This program is offered in collaboration with Trilogy Education Services, a 2U, Inc. brand.