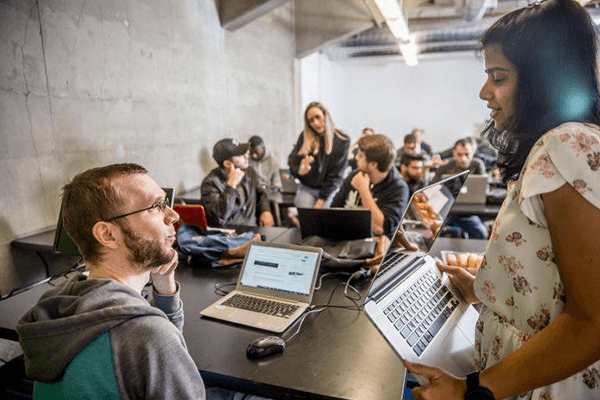 The University of Arizona Continuing & Professional Education Coding Boot Camp gives you the knowledge and skills to build dynamic end-to-end web applications and become a full-stack web developer.
The industry-driven curriculum is continually optimized to teach the most in-demand technologies, including: Javascript, HTML, CSS, jQuery, Bootstrap, Node.js, MySQL, MongoDB, React and more.
Through hands-on collaborative projects, you will develop a professional portfolio of applications that showcase your abilities.
Participants can also receive a wide set of career services, including resume support, interview preparation, soft skills training, coaching and more.
Part-time and full-time options are available. The convenient online format allows you to learn from anywhere.
This program is offered in collaboration with Trilogy Education Services, a 2U, Inc. brand.
Is this program right for you?
Are you looking for a new career–or a change from a non-technical role to a technical one? 
Are you seeking to learn the technical skills needed to execute an entrepreneurial idea and build your product?
You're ambitious to grow your knowledge or want to add to your skill set while working or studying.
Are you interested in freelancing to supplement your income–or making meaningful contributions to your current job?
How to apply:
To start your application to this Boot Camp, fill out this form, and a Trilogy Education Services admissions advisor will contact you. No prior industry experience is required to apply to the program.
To learn more about the program curriculum, start dates, and schedules, click the Visit Coding Boot Camp Site button below.