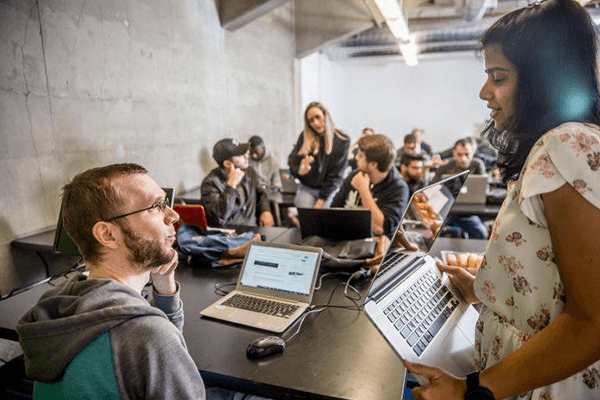 University of Arizona Coding Boot Camp
Learn to Code in 12 or 24 Weeks
The University of Arizona Continuing & Professional Education Coding Boot Camp gives you the knowledge and skills to build dynamic end-to-end web applications and become a full stack web developer.
Who Should Take This Programming Boot Camp
Are you looking for a new career or a change from a non-technical role to a technical one?
Are you seeking to learn the technical skills needed to execute an entrepreneurial idea and build your product?
Are you eager to grow your knowledge or add to your skill set while working or studying?
Are you interested in freelancing to supplement your income or making meaningful contributions to your current job?
Schedule and Format
Part-Time Coding Boot Camp
Attend a 24-week online program, with live classes three days a week (two weeknights and Saturdays).
Study part-time while maintaining your existing professional, educational, or personal obligations.
Dedicate 10 hours of scheduled in-class time per week and 20+ hours outside of class on hands-on projects and practice work.
Full-Time Coding Boot Camp
Attend a 12-week program with live online sessions in a virtual classroom environment, Monday – Friday, 10 a.m. – 2:30 p.m.
Launch your career sooner by studying full-time and completing the program at an accelerated pace.
Dedicate 20 hours of scheduled in-class time per week and 25+ hours outside of class on projects and homework assignments.
What is included in our online coding boot camp?
The industry-driven curriculum is continually optimized to teach the most in-demand technologies, including JavaScript, HTML, CSS, jQuery, Bootstrap, Node.js, MySQL, MongoDB, React, and more.
Through hands-on collaborative projects, you will develop a professional portfolio of applications& that showcase your abilities.
Participants can also receive a wide set of career services, including resume support, interview preparation, soft skills training, coaching and more. You'll also gain access to an exclusive network of 260+ employer partners.
Part-time and full-time options are available. The convenient online format allows you to learn from anywhere.
Paying for Your Course
There are various options for paying for your boot camp. Although federal student aid (such as Pell Grants or student loans)is not accepted, some learners may be eligible for additional discounts and payment plans.
Frequently Asked Questions
Are coding boot camps worth it?
If you are looking to start a career in programming, or would like to develop essential coding skills, then a coding boot camp may be right for you. A coding boot camp is generally received positively by employers, and successful participants of a boot camp program can often qualify for higher paying positions.
What is a coding boot camp?
A coding boot camp is a short, intensive training program dedicated to developing in-demand programming skills. The curriculum is typically market-driven, and the training provides additional guidance on career options and networking opportunities.
Can you get a job after coding boot camp?
Yes! Many successful participants of coding boot camps go on to have successful careers in tech. The Career Services team prepares you for the job search by providing professional resources and networking opportunities.
How long are coding boot camps?
Coding boot camps generally last three to six months. Our coding boot camp lasts either 12 or 24 weeks depending on whether you enroll in a full-time or part-time schedule.
How effective are coding boot camps?
Whether you're looking for a new career as a software engineer or want to move up in your current job, a coding boot camp is a great place to start your journey. Aside from giving you hands-on learning in technical skills, our coding boot camp offers additional support for industry networking and career guidance following program completion.
This program was offered in collaboration with edX.