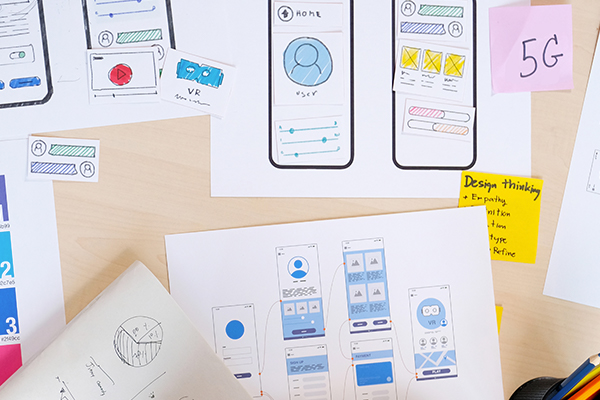 This program has been discontinued as of March 2022.
If you are interested in a career at the intersection of creativity and technology, the Digital Marketing Certificate program teaches you the skills you need to launch a career in the exciting field of digital marketing.
The University of Arizona Continuing and Professional Education UX/UI Boot Camp is a challenging, part-time program that takes a multidisciplinary approach to attaining proficiency in design thinking, prototyping, user interface design, and web design.
Throughout the course, you will gain experience with a host of popular tools and methods such as Adobe XD, Figma, InVision, agile methodology, user centered design research, and rapid prototyping. You will also learn how these concepts are leveraged within design fields from UX research to UI development, as well as best practices for using these skills to add value to your organization. 
In addition to live online classroom instruction with an expert in the UX/UI design field, participants should expect to spend 20+ hours a week on outside projects and experiential learning activities. These collaborative projects help participants build a professional portfolio to showcase their abilities and hone their competitive edge in the current market.
What You Will Learn
By the time you complete program, you should be able to:
Conduct user research using proven methodologies to understand design needs

Learn how to communicate your design decisions to stakeholders in compelling form through wireframing and storyboarding

Test your assumptions and biases by analyzing user experiences through UX interviewing

Master the art of rapid prototyping using tools like InVision, Adobe XD, Figma, and more

Manage your time and projects using agile methodologies and widely used project management tools

Keep business branding and continuity in mind when designing for clients

Design for more than the look of a product as you use interaction design to develop the ideal experience for your users

Bring designs to life in web prototypes using HTML, CSS, JavaScript, and some of the most popular front end skills around