Fundamentals of Engineering Exam Preparation Course
If you have a 4-year engineering degree or 4 years of documented work experience in the engineering field, passing the Fundamentals of Engineering (FE) exam is the first step towards becoming a Licensed Professional Engineer (PE).
Get Ready for the FE Exam
The fully online FE Exam Prep course is designed to maximize your chance at passing the FE exam the first time. It includes:
Coverage of every topic on the FE Civil Engineering and Other Disciplines exams: math, probability and statistics, chemistry, ethics and safety, engineering economics, instrumentation, statics, dynamics, material science, fluid mechanics, electrical power and more.
Video lectures, homework activities, and quizzes/exams to reinforce your learning and help you gauge your progress on each topic.
Practical problem-solving and test-taking strategies to help you get ready for the type of questions you will see on the FE exam.
A convenient online format, so you can get ready for the FE exam from any location. All course activities can be completed online, on your own schedule, each week.
Personalized help from an instructor and a TA to set you up for FE exam success. Ask questions and get help from the course instructors online via discussion boards and email.
Optional weekly live online discussion/study sessions (via Zoom) with the instructors to get additional help, if you're struggling with a particular topic. 
Schedule and Price
Registration for the Spring 2021 FE class is now closed. 
Class meets January 13-May 5, 2021. Weekly Zoom study sessions are optional but encouraged. Study sessions will be offered every Wednesday 5:30-7 p.m., excluding holidays. Fee: $598 (discounts are available).
---
Who Should Take the FE Exam?
You can take the FE exam if you have:
A 4-year engineering degree (or will graduate soon) OR
An engineering degree/training from outside the U.S. OR
4 years of documented work experience in engineering or a related field
Everyone is welcome. Refugees, immigrants and others with documented engineering experience in their home countries are welcome, in addition to current and former Engineering students from the University of Arizona and other schools. This class was originally created by NextGen Engineering to help train and re-certify those who were engineers in their home countries. The first classes were held in collaboration with the Refugee Resource Center. 
Discounts and Internship Opportunities
NextGen is offering internships to assist with teaching the FE Exam Preparation course, in particular assisting with the study groups. Interns will receive a small stipend and gain experience teaching and working with students. Contact NextGen to learn more.
Discounted rates are available for University of Arizona students, University of Arizona alumni and for FE Exam Prep students referred by refugee-serving community organizations. Members of specific professional organizations may also be eligible for a discount.
Frequently Asked Questions

Learn more about the exam, the application process, and the FE Exam Prep course.

Student and Alumni Discounts

Current University of Arizona students and undergraduate/ graduate alumni are eligible for a discounted rate. 

 

Refugee Community Organization Referrals

NextGen Engineering coordinates with community organizations to offer discounts to the refugee population. Email: admin@ngeneng.com to learn more.
---
Instructor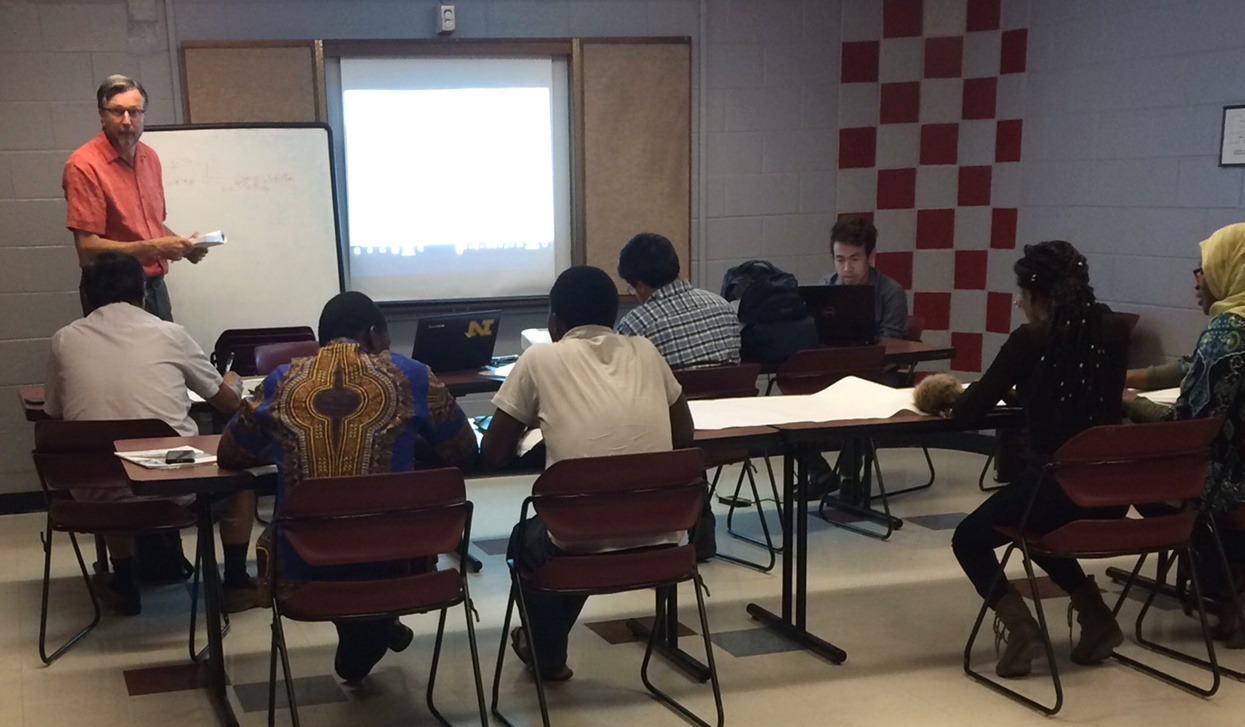 The course was developed by NextGen Engineering, and it is taught by a Licensed Professional Engineer and a teaching assistant (TA). 
Bill O'Brien is the Principal Engineer at NextGen Engineering. Founded in 2012, NextGen specializes in water resource engineering and participates in local and international trainings, including the Fundamentals of Engineering exam preparation course.
Bill has over 25 years of professional experience in engineering, planning, and design for water resources and land use. Specific experience includes: Hydrology, river and pipeline hydraulics, technical writing, plan reviews, drainage; FEMA floodplain management, insurance, and map changes; SWPPP's and BMP design, watershed planning with water quality program analysis, wastewater management and bio-digester planning, water recycling, and conjunctive use planning.

Bill and his family lived and worked in the Middle East for over a decade. He also participated in Water supply, Sanitation and Hygiene (WASH) training in Ethiopia and Central Asia. Bill is an active volunteer in the Tucson refugee-serving community.