CISSP Frequently Asked Questions
What is CISSP®?
Certified Information Systems Security Professional (CISSP) is an internationally-recognized advanced credential from (ISC)²®, verifying your ability to design, implement and manage information security systems.
Why should you become a CISSP?
CISSP is one of the most sought-after IT credentials in the world. CISSP also meets the requirements of DoD Directive 8570.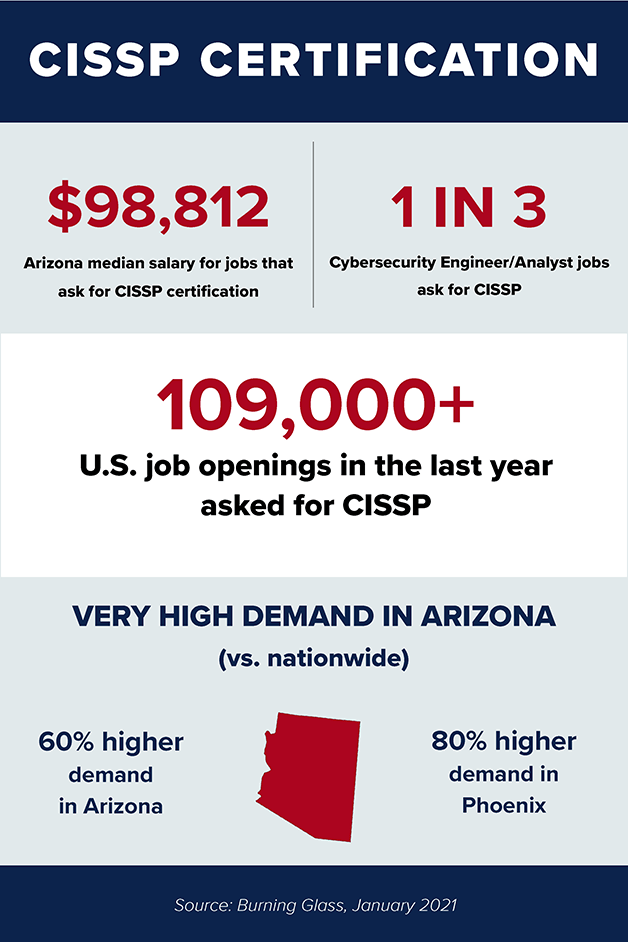 Over 109,000 job openings asked for CISSP in 2020, and it is the #2 most-requested IT certification nationwide. Only IT Infrastructure Library (ITIL) was more in demand than CISSP.
In fact, Cyberseek found that there are 29,000 more job openings for CISSPs than there are CISSPs to fill them.
Is there demand for CISSP certification in Arizona?
Yes, there is very high demand for CISSP certification in Arizona. It is the #2 most-requested IT certification in Arizona job postings.
Demand for CISSPs in Arizona is 60% higher than the nationwide average. Demand is particularly high in the Phoenix Metro and Sierra Vista areas:
Phoenix area demand for CISSPs is 80% higher than nationwide.
Demand in the Sierra Vista area is almost 5x higher than the nationwide average.
How much does a CISSP Make?
Your salary will depend on your role, employer and location. But the median salary for Arizona CISSP jobs is over $98,000.
(Unless otherwise noted, all the above data comes from Burning Glass Labor Insight, January 2021).
How do you become a CISSP?
CISSP is designed for experienced security practitioners.
To earn the certification, you must pass the (ISC)² CISSP certification exam. The exam evaluates your expertise across eight security domains, from security and risk management to software development security.
The English-language version of the exam is a three hour exam that includes a maximum of 150 questions. A passing score is 700 out of a possible 1000 points.
CISSP candidates must also have at least five years of paid work experience in two (or more) of the eight CISSP domains. The following can be substituted for one year of the required work experience:
A degree in information security OR
An additional (ISC)² -approved credential, such as CompTIA Security+, CySA+ or CASP
Learn more about CISSP requirements.
Ready to take your IT career to the next level?
Our CISSP Exam Prep class can get you ready to pass the challenging CISSP exam.
(ISC)² and CISSP are registered certification marks of (ISC)², Inc.