Spotlight on Paralegal and Legal Assistant Careers
Paralegals and legal assistants are in high demand nationwide, with rapid growth projected for the next ten years. If you're interested in starting a career in this growing field, here's what you need to know.
What They Do
Paralegals and legal assistants support the work of lawyers by conducting legal research, drafting documents, and organizing files and other materials.
The specific job duties will often vary depending on the size of the company or organization you work for, as well as the area of law.
For example, a corporate paralegal may help prepare employee contracts and stay up-to-date on regulations that affect their industry. A litigation paralegal may focus on helping lawyers prepare for trial by gathering and summarizing case facts, scheduling witness interviews, and researching relevant laws and regulations.
Where They Work
There are paralegal job openings in every state and in a wide variety of industries, making paralegal skills highly transferable. While many paralegals and legal assistants work in law firms, those aren't the only places they work.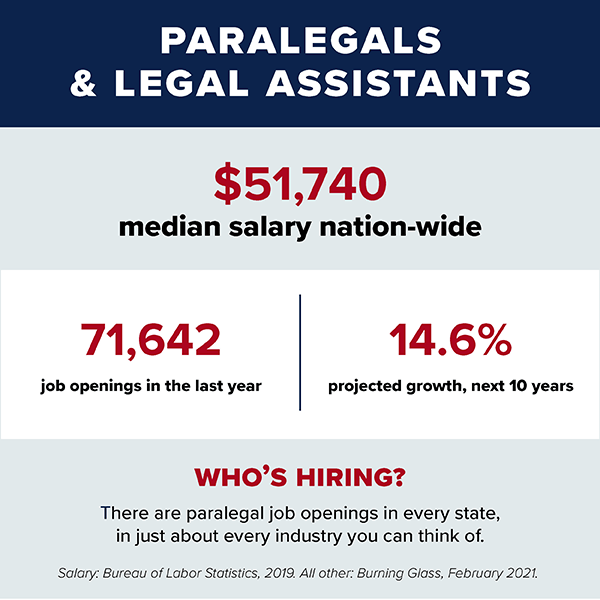 Government agencies, corporations, hospitals, the court system and many other employers hire paralegals and legal assistants. In fact, the largest employer of legal support professionals (based on number of job openings) is the U.S. government. Every large company has a legal department, and a legal department needs paralegals and legal assistants.
How to Become a Paralegal
Legal support professional jobs include legal secretary, legal assistant and paralegal. 
The specific job requirements vary depending on the employer, but in general these jobs fall on a spectrum: legal secretaries perform more administrative and secretarial duties, and legal secretary jobs generally require less formal education. Paralegals perform more legal duties (such as research), and paralegal job postings tend to require more formal education. Legal assistant jobs tend to fall somewhere in between the other two.
According to the Bureau of Labor Statistics, most paralegals and legal assistants have at least an associate's degree or a certificate in paralegal studies. Some states, including California and New Mexico, have additional education requirements for paralegals.
Ready to start your paralegal or legal assistant career? Check out the University of Arizona Paralegal Certificate Program.