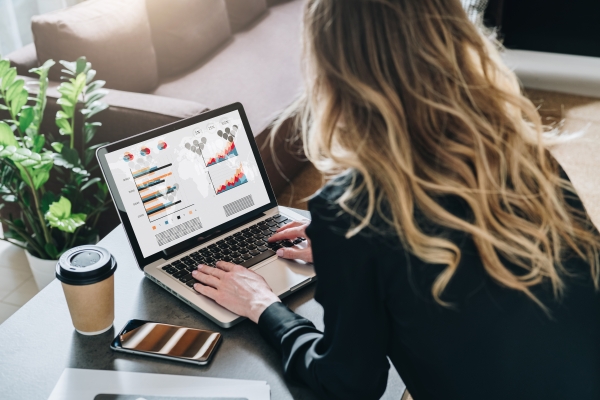 Business Analytics Certificate
In an increasingly data-driven world, employers need people who can leverage data to solve problems. 
The University of Arizona Business Analytics Science Certificate Program is a fully online noncredit professional development program that teaches you the fundamental data and business analytics skills that employers need.
Who Should Take the University of Arizona Business Analytics Certificate Program?
This noncredit program is open to all. You do not need prior business analytics experience.
What You Will Learn in the Business Analytics Course
Business Analytics Fundamentals: Learn how data can help you solve problems, drive growth and influence decision-making.
Data Modeling: Organize and use data to answer key research questions effectively.
Accessing Data with SQL: Retrieve and summarize data with SQL. Develop SQL queries and learn techniques such as filtering, working with joins and using aggregate functions.
Data Visualization and Technology: Learn data techniques and visualization types to highlight insights, and get hands-on with Excel and Tableau.
KPIs, Business Objectives, and More: Develop business objectives and align metrics and Key Performance Indicators (KPIs) to measure and improve business performance.
Artificial Intelligence and Machine Learning: Get an introduction to AI and Machine learning and the role these tools can play in business analytics.
The program is designed to equip you with practical, workplace-ready skills. In fact, 94% of learners who completed the course say that they are applying what they learned back on the job.
What Is Included in the Business Analytics Certificate Program
Approximately 80 hours of learning
Tableau eLearning: one full year of free access to Tableau eLearning content (a $120 value), so you can do a deep dive into Tableau during and after the course.
Technology certification: By the end of the course, you will be prepared to take the Tableau Desktop Specialist Certification Exam. Note: cost of the exam is not included in course cost.
Career services support, including resume and cover letter review, optimizing your LinkedIn profile, career workshops and career coaching.
University of Arizona Continuing & Professional Education digital badge and digital certificate of completion upon successful completion of course
Business Analytics Class Structure and Format
Class Dates: classes start monthly
Format: The convenient online format allows you to learn from any location in Arizona or around the world.
The ten-week class includes weekly on-demand online learning such as videos and reading, plus assignments to reinforce your learning and provide you with practical hands-on experience. All activities can be completed online, on your own schedule, each week.
You can also attend optional (but recommended) mentor-led live broadcasts once a week via video conference.
You should expect to spend 4-6 hours per week working independently (learning, working on assignments), plus an additional 1-2 hours per week attending the optional weekly mentor-led live broadcasts. 
Paying for Your Certificate Program
Payment plan options are available for qualifying participants. Payment plan options may include additional fees.
Discounts are also available for veterans and for University of Arizona alumni and staff members.
This program is offered in collaboration with GreenFig.