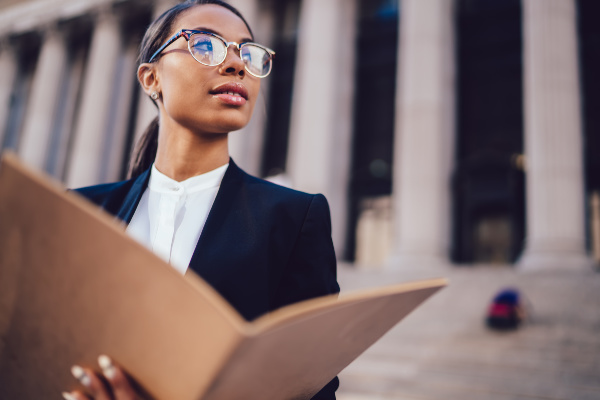 Paralegal is one of the fastest growing careers in the country. The national median earnings for paralegals is over $50,000/year, and freelance paralegal professionals average significantly more across the board.
There are paralegal job openings in every state and in a wide variety of industries, making paralegal skills highly transferable. Law firms, government agencies, corporations, hospitals, the court system and many other employers hire paralegals.
The Paralegal Certificate Course© prepares you for a career in this fast-growing field.
What You Will Learn in the Paralegal Certificate Course
The Paralegal Certificate Course is designed to equip you with the knowledge of the American legal system that you need to begin a successful career as a Paralegal. It will also teach you practical skills including how to assist trial attorneys, interview witnesses, research the law, and assist in preparing cases for courtroom litigation.
You will also:
Develop a working knowledge of legal authority: how it is used and how to locate it through legal research.
Learn the basics of law office management, substantive law (such as criminal law, domestic relations, real property law, and bankruptcy), and informal and formal advocacy.
Who Should Take the Paralegal Certificate Course?
This is a non-credit professional development certificate designed to prepare you to start a career as a Paralegal.
The only prerequisites for participation in the program are: a high school diploma (or equivalent) and being 18 years of age. There is no application required.
To register for the program, click the Register for Class button below. On the registration page, you can choose a course format and the date you wish to start the program, purchase your books/materials, and pay your registration fee.
Class Schedule and Format: Choose a Format that Works for You
The Paralegal Certificate Course is available in three different formats:
In the online format, you will complete two seven-week online classes (Paralegal 1 and Paralegal 2). For each class, you will complete weekly activities and assignments, averaging 8-12 hours per week of course work. As long as you complete your work by the assigned deadline, you can work on your own schedule, and you don't need to be online at a particular time. View full online course syllabus.
The live lecture format is similar to the online format, but it is shorter (8 weeks) and therefore more intensive. You still complete weekly online activities and assignments. You will also attend live online lectures (via Zoom) three times per week. View full live lecture course syllabus.
In the self-study format, you can register and start learning at any time. Once you register, you will have six months to complete the program. Because it is a self-paced program, you will not have weekly assignments or a specific course schedule to follow. Therefore, you will need to be organized, persistent and motivated to stay on track to complete your training. 
Online course dates
Paralegal 1 and Paralegal 2 must be completed in consecutive sessions. The start and end dates dates below reflect the date you would start Paralegal 1 and the date you would complete Paralegal 2.
October 17, 2022 - February 24, 2023
January 9, 2023 - April 21, 2023
March 6, 2023 - June 16, 2023
May 1, 2023 - August 11, 2023
June 26, 2023 - October 6, 2023
August 21, 2023 - December 1, 2023
October 16, 2023 - February 23, 2024
Live lecture course dates: Attend live lectures (via Zoom) on Mondays and Wednesdays from 6:30-9:30 p.m. and Saturdays from 9:00 a.m.-1:30 p.m. Mountain Time.
Spring 2023: February 6-April 1, 2023 (registration for this session is now closed)
Summer 2023: July 10-September 2, 2023
Fall 2023: TBD
Self-Study course dates: start any time, work at your own pace, and complete your program within six months.
What is Included
90 clock hours of training
A Certificate of Completion from University of Arizona Continuing & Professional Education upon successful completion of the program. Update April 2021: this Certificate will be available in a downloadable digital format.
A digital badge upon successful completion of the program
Note: books and materials are not included in registration fee.
This program is offered in collaboration with CLS by BARBRI.
Paying For Your Course
Financing options may be available through CLS by BARBRI, in partnership with Affirm and PayPal. Learn more on the Payment Options page. Financing options may include additional fees. Note: The University of Arizona office of Continuing and Professional Education is not affiliated with Affirm or PayPal and does not administer these payment programs.