CISSP Certification Frequently Asked Questions
What is CISSP Certification?
Certified Information Systems Security Professional (CISSP®) is an internationally-recognized advanced credential from (ISC)²®, verifying your ability to design, implement and manage information security systems.
Why should you become a CISSP?
CISSP certification validates that you have the knowledge, experience and skills to be an information security leader. 
To earn the certification, you must pass the challenging CISSP exam, document 5 years of relevant hands-on cybersecurity work experience, and be endorsed by an (ISC)²-certified professional who can attest to your work experience and "good character."
Earning your CISSP certification is therefore a major professional achievement that makes you stand out among your peers.
Certification can also increase your career and salary growth potential.
Is there demand for CISSP certification?
CISSP is one of the most sought-after IT credentials in the world. Over 135,000 job openings asked for CISSP in the past year, and it is the #1 most-requested cybersecurity certification nationwide.
In fact, CyberSeek found that there are 23,000 more job openings for CISSPs than there are CISSPs to fill them.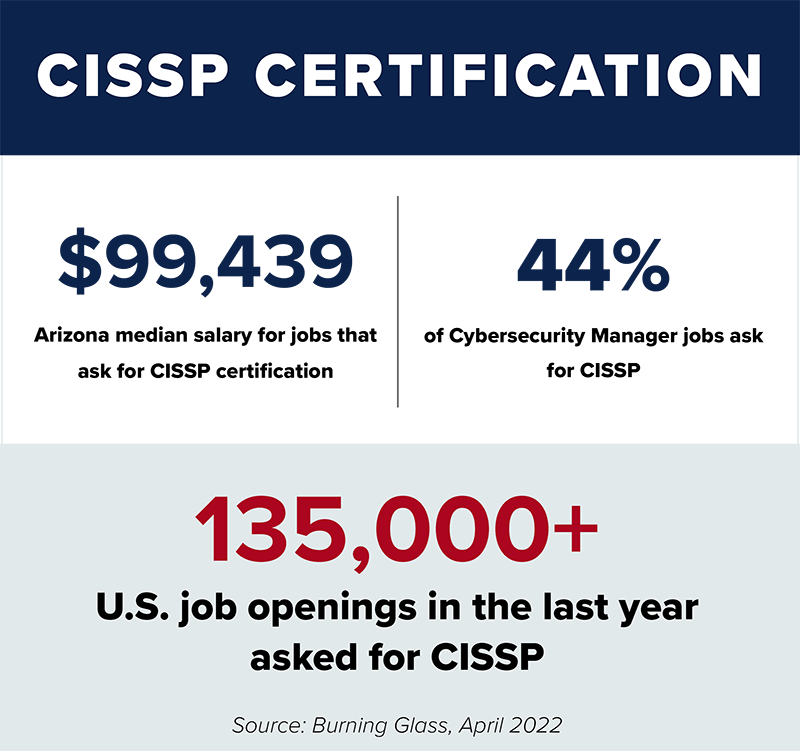 Is there demand for CISSP certification in Arizona?
Yes, there is high demand for CISSP certification in Arizona. It is the #2 most-requested IT certification in Arizona job postings and the #1 cybersecurity certification.
How much is a CISSP salary?
Your salary will depend on your role, employer and location. But the median salary for Arizona CISSP jobs is over $99,000.
(Unless otherwise noted, all the above data comes from Burning Glass Labor Insight, April 2022).
How do you become a CISSP?
CISSP is designed for experienced security practitioners.
To earn the certification, you must pass the challenging (ISC)² CISSP certification exam. The exam evaluates your expertise across eight security domains, from security and risk management to software development security.
CISSP candidates must also have at least five years of paid work experience in two (or more) of the eight CISSP domains. The following can be substituted for one year of the required work experience:
A degree in information security OR
An additional (ISC)² -approved credential, such as CompTIA Security+, CySA+ or CASP
CISSP candidates must also be endorsed by an (ISC)² credential holder.
Learn more about CISSP requirements.
Is the CISSP exam hard?
Yes, the CISSP exam is challenging. The CISSP exam tests you on the eight domains of the CISSP Common Body of Knowledge (CBK®): security and risk management, asset security, security architecture and engineering, communication and network security, identity and access management (IAM), security assessment and testing, security operations, and software development security.
These eight domains cover nearly every aspect of information security. 
The breadth of the exam makes it challenging enough. But the real challenge is that CISSP isn't just a technical exam. The exam also tests your critical thinking, decision-making, and information security management abilities.
To pass the exam, you'll need to be able to think like a manager, rather than an engineer or developer.
What is it like to take the CISSP exam?
The exam itself is a three hour exam that includes a maximum of 150 questions. A passing score is 700 out of a possible 1000 points.
It is an "adaptive" test, meaning the test gives you different questions based on your correct or incorrect answers to previous questions. That means you can't  skip questions and return to them later or change your previous answers.
How can I prepare for the CISSP exam?
Our CISSP Exam Prep class can get you ready to pass the challenging CISSP exam.
(ISC)² and CISSP are registered certification marks of (ISC)², Inc.