CompTIA Security+ Certification FAQs
What is Security+?
CompTIA Security+ is a globally recognized vendor-neutral certification that shows employers you have the core security skills to be successful in an IT security role.
To earn the certification, you must pass the Security+ certification exam. The exam is timed, and it includes a maximum of 90 multiple choice and performance-based questions. There are online (at home) and in-person testing options available.
CompTIA released a new version of the Security+ exam (SY0-601) in November, 2020. Candidates can still take the old Security+ exam (SY0-501) through July 31, 2021.
Who should take Security+?
While not required, CompTIA recommends that Security+ candidates have two years of IT administration experience with a security focus before attempting the Security+ exam. Network+ certification is also helpful for Security+ candidates.
What are the benefits of Security+ certification?
Security+ certification is highly in demand in Arizona and across the country. In fact, many employers require Security+ certification for IT security roles. It is one of the baseline certifications for DoD 8570, as required for employment in a federal government or contractor role.
"The CompTIA Security+ certification has become the benchmark certification for being hired in an IT or cyber job. Without it, most employers won't even look at your resume. It's become a must-have." - Dr. John DeLalla, University of Arizona Continuing & Professional Education
Over 95,000 job postings asked for Security+ certification nationwide in the past year, and it is one of the top IT certifications in Southern Arizona job postings (#1 most-requested in Cochise County and Pima County).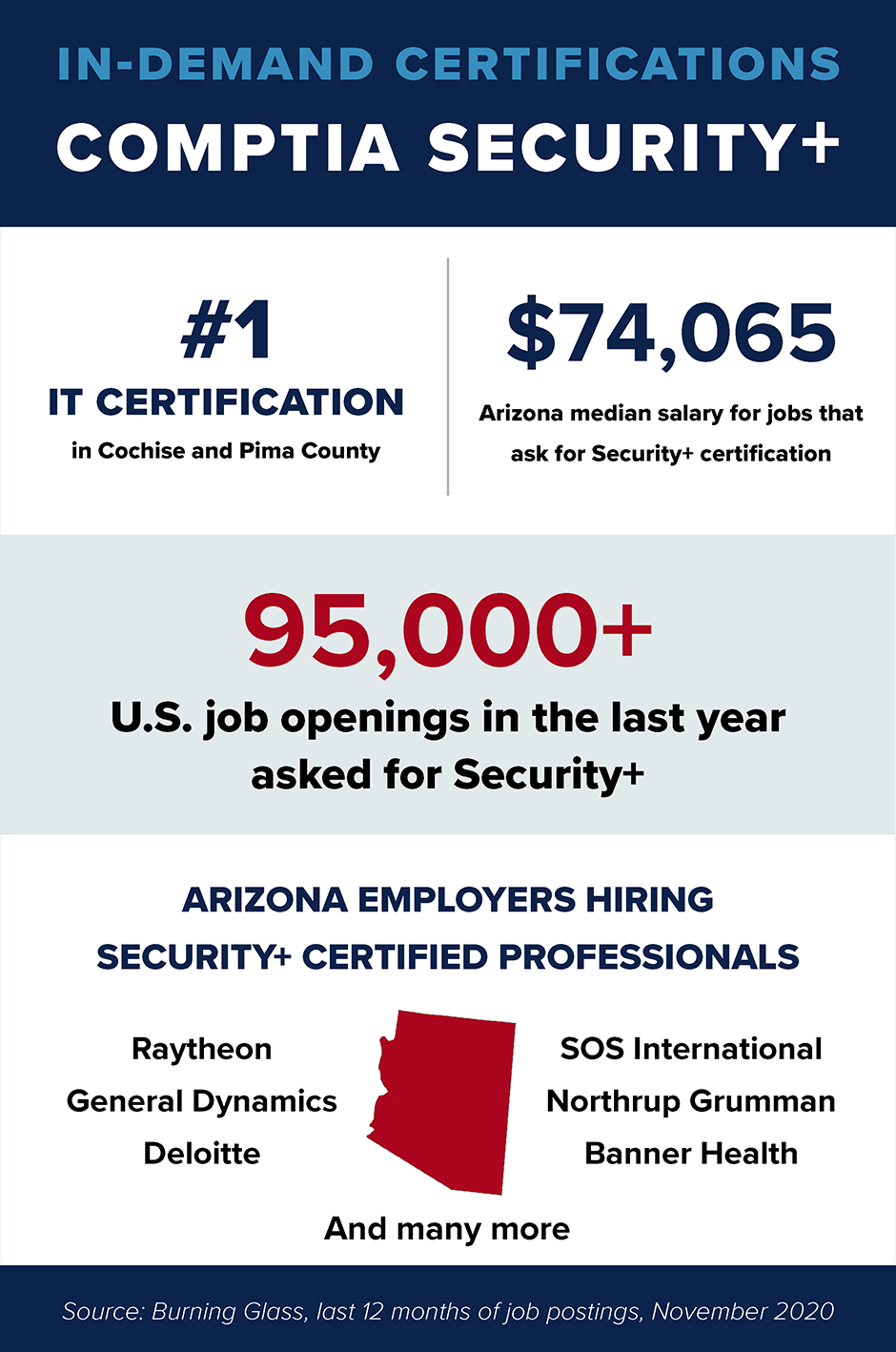 Because Security+ certifications must be renewed every three years, an up-to-date certification also shows that your skills are still current and relevant.
How much does the Security+ exam cost?
As of March 2021, a Security+ exam voucher cost $370. Some Security+ Exam Prep courses will include a free test voucher with your course registration.
When and where can I take the Security+ exam?
The Security+ exam is offered year-round. Online (remote) and in-person testing options are available.
If you want to take the exam in person, you can do so at Pearson VUE test centers nationwide (and even internationally).
Are there opportunities for growth after getting Security+?
Yes. CompTIA certifications are "stackable," so you can earn additional credentials that reflect your increased knowledge, skills and experience.
After Security+, Cybersecurity Analyst (CySA+) certification is the next step for many cybersecurity professionals. This intermediate-level certification is designed for those with 3-4 years of hands-on information security experience.
CompTIA's most advanced cybersecurity credential, CASP+, is recommended for those with a minimum of ten years IT administration experience.
How do I prepare for the Security+ exam? 
You can learn the IT security skills you need with Security+ training from University of Arizona Continuing & Professional Education.
Our intensive live Security+ Exam Prep courses are designed to get you ready to get certified in as little as one week.
Quick Links
More questions?
Contact Dr. John DeLalla at 520-626-6389 or jd@arizona.edu to learn more.