Spotlight on Security+ Certification
What is Security+?
CompTIA Security+ is a globally recognized vendor-neutral certification that shows employers you have the core security skills to be successful in an IT security role.
To earn the certification, you must pass the Security+ certification exam. The exam is timed, and it includes a maximum of 90 multiple choice and performance-based questions. There are online (at home) and in-person testing options available.
While not required, CompTIA recommends that Security+ candidates have two years of IT experience before attempting the Security+ exam. Network+ certification is also helpful.
Three Reasons to Get Certified
1. Employer Demand
Security+ certification is highly in demand in Arizona and across the country. In fact, many employers require Security+ certification for IT security roles. It is one of the baseline certifications for DoD 8570, as required for employment in a federal government or contractor role.
"The CompTIA Security+ certification has become the benchmark certification for being hired in an IT or cyber job. Without it, most employers won't even look at your resume. It's become a must-have." - Dr. John DeLalla, University of Arizona Continuing & Professional Education
Nearly 100,000 job postings asked for Security+ certification nationwide last year, and it is one of the top IT certifications in Southern Arizona job posting (#1 most-requested in Cochise County).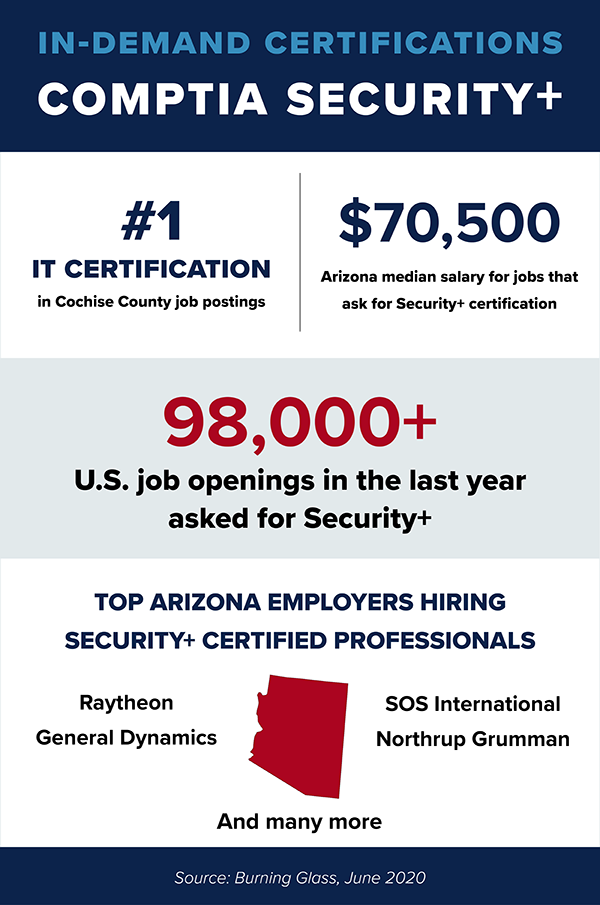 2. Verified Security Knowledge and Skills
According to CompTIA, the Security+ certification demonstrates that you have the knowledge and skills required to:
install and configure systems to secure applications, networks, and devices
perform threat analysis and risk mitigation
operate with an awareness of applicable policies and regulations
Because Security+ certifications must be renewed every three years, an up-to-date certification also shows that your skills are still current and relevant.
3. Opportunities for Growth
CompTIA certifications are "stackable," so you can earn additional credentials that reflect your increased knowledge, skills and experience.
After Security+, Cybersecurity Analyst (CySA+) certification is the next step for many cybersecurity professionals. This intermediate-level certification is designed for those with 3-4 years of hands-on information security experience. CompTIA's most advaced cybersecurity credential, CASP+, is recommended for those with a minimum of ten years IT administration experience.
Ready to Start Your IT Security Career?
Learn the IT security skills you need with Security+ training from Continuing & Professional Education.
We offer "flex registration" options to help you learn when and how you want.
Flex registration includes one 40-hour scheduled live online or in-person course taught by an industry subject matter expert. Plus, you'll get access to free self-paced online training so you can start learning right away before your scheduled class even starts. And you'll get the option to take a free follow-up training (on the same subject) at a later date.
Questions?
Contact Dr. John DeLalla at 520-458-8278 x2301 or jd@arizona.edu to learn more.