Top Ten 2021 Arizona Tech Credentials
When choosing which IT certification to pursue, IT professionals usually consider their professional experience and their career goals. Geography can also play a role in the decision-making process, because employers in different locations may prefer different credentials. 
To ensure our programs equip our learners to achieve their career goals, we continually review the top certifications requested in job postings locally and nation-wide.
Top IT Certifications in Arizona
Based on the past 12 months of job postings, these were the top IT certifications requested in Arizona for 2021: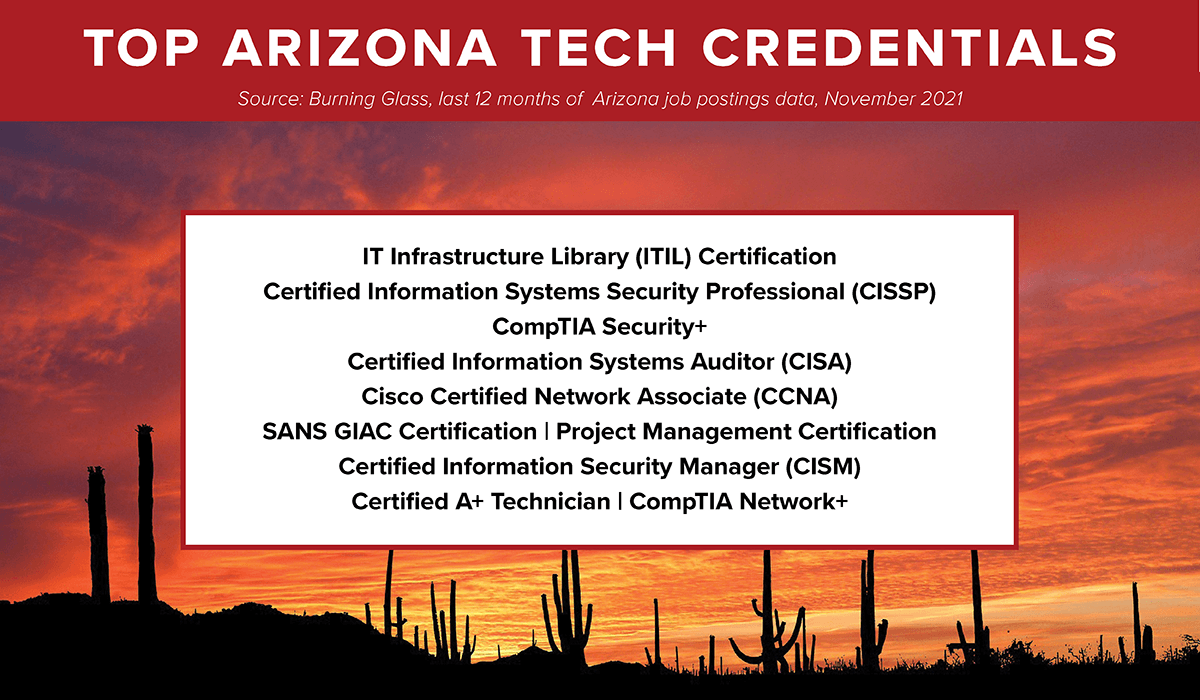 When we looked at the top Arizona IT credentials in 2020, IT Infrastructure Library (ITIL) and Certified Information Systems Security Professional (CISSP) were the two most-requested certifications statewide. That didn't change in 2021.
So, what did change? This year we saw that demand for CompTIA Network + and CompTIA Security+ increased relative to other certifications: Network+ moved into the top 10 list and Security+ moved up to number three.
Top Credentials in Arizona by County
We also looked at the top tech credentials in Arizona by county. As we saw in 2020, each county's list of top IT certifications looked a little different. 
These were the top IT certifications requested in each county in the past year: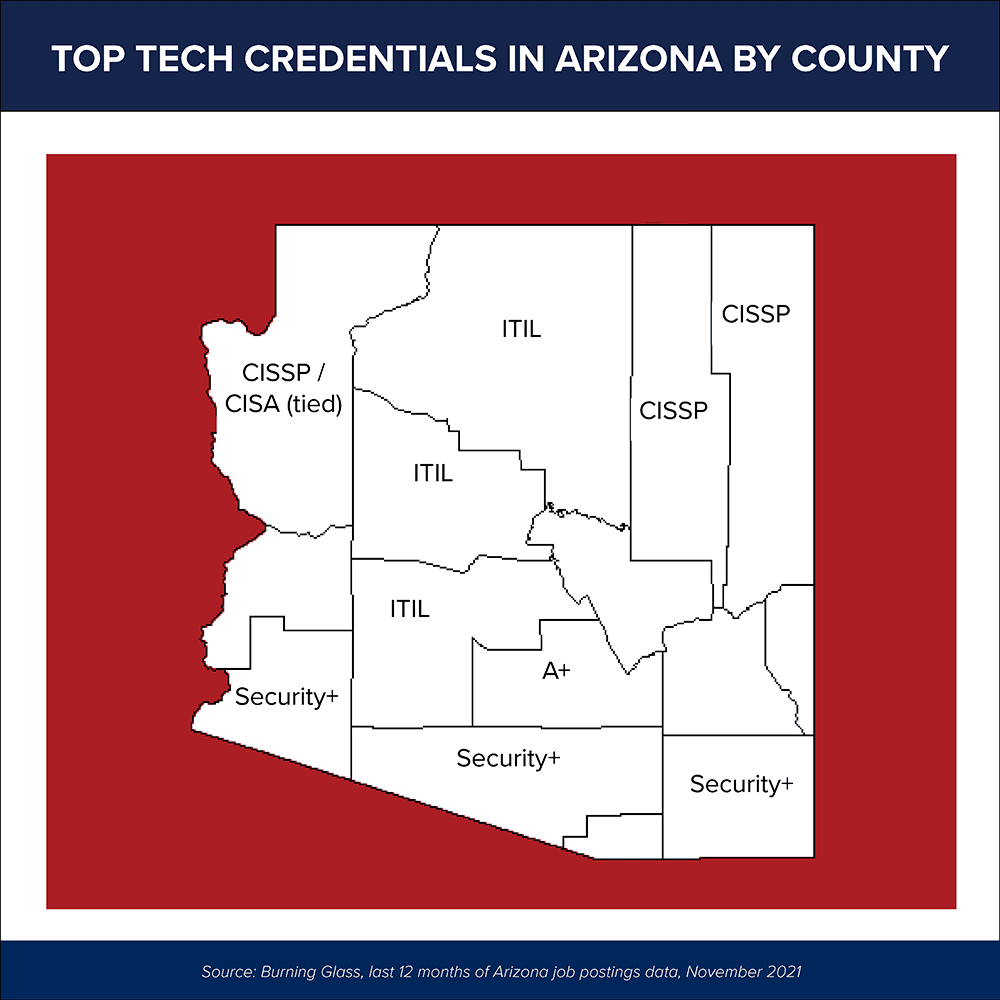 CompTIA Security+ was the top certification requested in Pima, Yuma, and Cochise counties. The high demand for Security+ is likely related to the military installations in those areas: Davis-Monthan Air Force Base in Tucson (Pima County), Fort Huachuca in Sierra Vista (Cochise County), and the Marine Corps Air Station and Yuma Proving Ground in Yuma County. Security+ is one of the baseline certifications for DOD 8570, as required for many roles that perform IT work for the federal government.
IT Infrastructure Library (ITIL) was the top-requested certification in Maricopa, Coconino, and Yavapai counties.
CISSP was the top IT certification requested by employers in Apache and Navajo counties. In Mohave county, CISSP tied with CISA for the top spot.
In addition to considering your experience, qualifications and goals, you can also explore local job postings to get a sense of which certifications are most in-demand.
IT Certifications and Training
If you want to add an IT certification to your resume, University of Arizona Continuing and Professional Education offers IT training and certification exam prep programs for many of the top Arizona IT certifications.
We can also provide custom group IT certification training in locations across Arizona, including the Phoenix, Tucson, Sierra Vista and Yuma areas.